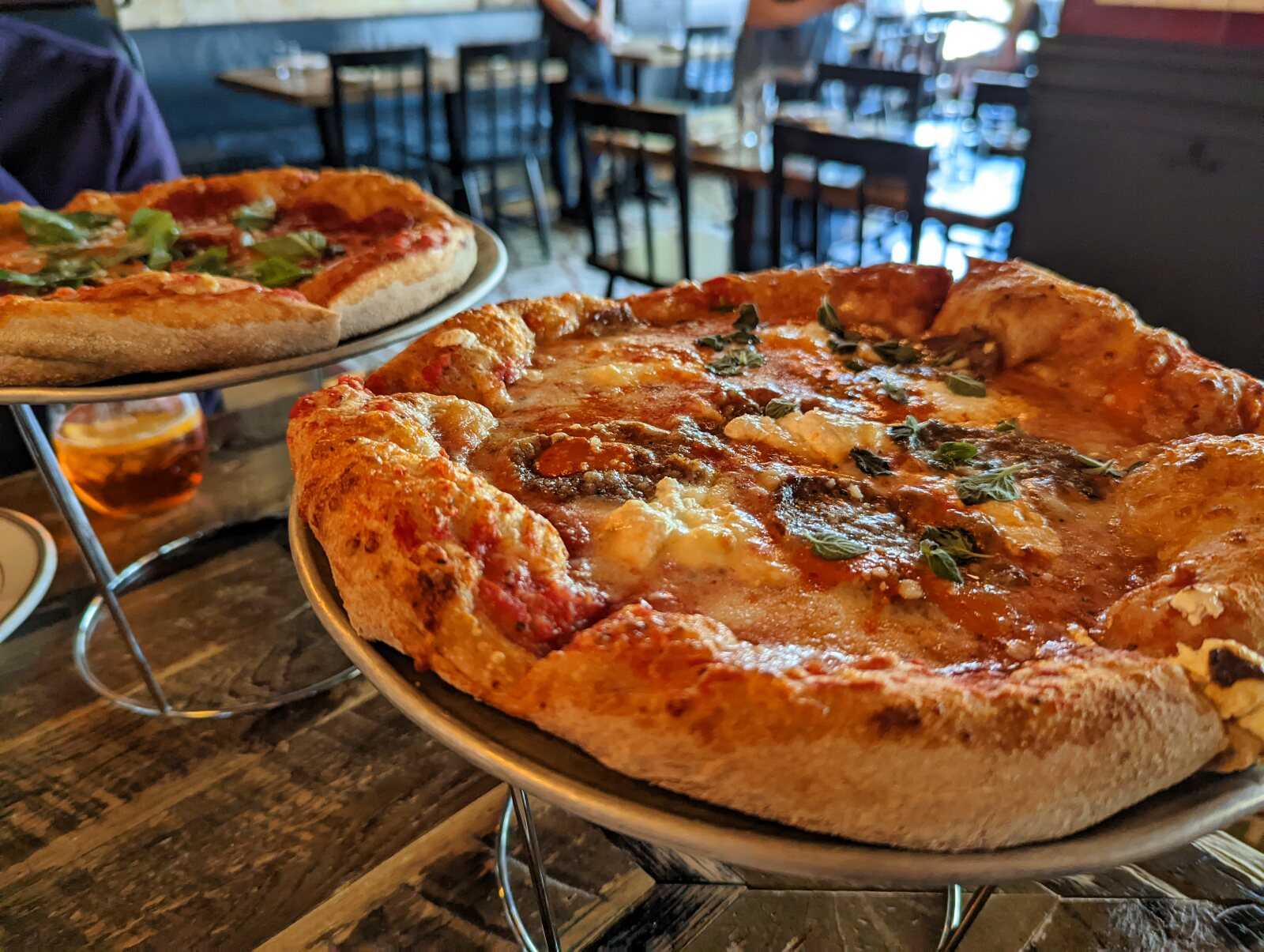 Top 5 Pizza Brunches
February 14, 2023
We love a classic brunch dish here at Bottomless Bros HQ — haters be damned, give us eggs, home fries, and bacon — but we understand that meal isn't for everyone. So what if you just got a big giant pizza instead?

Fortunately, exactly five bottomless spots in DC offer #pizzabrunch, and if you've spent even a little bit of time perusing our Takes section, you know that's just enough for another list.
There are plenty of omelets on the brunch menu (twelve, somehow), but the brunch flatbreads give you the opportunity to put the egg on a pizza, and Sette's generous service affords you plenty of time to finish it.
Number of Pizza Options
19
Most Exciting Pizza Option
Nutella (banana, strawberries, nutella, caramel sauce)
We had our issues, as the score shows, but they weren't with the pizza. Even the wall decor is pizza-themed (think the iconic E.T. movie poster, except the Earth is a pie), and with both the pizzas and bottomless drinks running you less than $20, the menu speaks to the affordability of #pizzabrunch.
Most Exciting Pizza Option
Smoked Salmon (white sauce, smoked salmon, caper, red onion, arugula)
The "brunch bundle" includes what's effectively a pizza appetizer (garlic pizza bread) before a standard brunch entree, but if you don't want to shell out $35 for that hearty platter, we strongly recommend shifting over to the lunch menu, where even most 14-inch pizzas don't exceed $20; it makes for an excellent complement to a make-your-own mimosa setup with five different flavor choices.
Number of Pizza Options
10
Most Exciting Pizza Option
Fig + Prosciutto (roasted garlic puree, blue cheese crumbles, black pepper honey, mozz, arugula)
Dining on a snowy winter day surely buoyed our opinion, but the interior's exceptionally cozy, feeling like a cross between your neighborhood bar and pizza parlor. You may have to do a bit of math to decide between the $20 bottomless deal plus an a la carte pizza or $40 for bottomless, a pizza, and coffee (!), but it's an exceptional price either way, made all the better by RedRocks' willingness to keep mimosas flowing well past two hours.
Number of Pizza Options
14 (plus two calzones)
Most Exciting Pizza Option
Ananas (tomato sauce, mozzarella, crispy prosciutto, pineapple)
The Aperol spritzes are a welcome brunch touch, and the warm interior has rustic chic covered, but we're here to talk about the pizza. While a tad pricier than the other #pizzabrunch spots on this list (the fancier pies run you over $20, and the aforementioned spritzes are another $23), with its perfectly doughy crusts, there's a reason it's a regular entrant on D.C.
best
pizza
lists
, brunch aside.
Most Exciting Pizza Option
Enzo The Baker (tomato, mozz, capicola bacon, spicy chilies, pickled peppers, red onion, pecorino Romano)